Tally ERP.9 with GST Internship
Practical Training on Accounting Projects
Learn Tally with GST implementation Create Company in Tally, Taxation, Stock Management, Payroll and Voucher Entry.
Tally 9 ERP is an accounting program that lets you track and manage all of your accounts, sales, debts, and everything else related to the running of your business.
Overview of
Tally
Tally is the gold-standard for all accounting jobs. Hence it has become mandatory for every professional in the field of Accounting to acquire complete expertise in Tally. What makes Tally so superior and essential to learn is that it is immensely flexible with high operational efficiency, and it extensively covers areas from administration to inventory, taxation, and more. Its widespread popularity can be estimated from the fact that Tally ERP has more than 1.5 million users across the globe. Invented in INDIA for multiple purposes, today Tally is used extensively across many industries while its ERP version is used globally in a big way by many companies.
What is the
Format of the Program
The Tally ERP.9 with GST internship is delivered in two learning modes: classroom and online, to cater to your learning preferences while ensuring maximum learning efficacy.
Classroom batches:

Classroom training by expert faculty at our Igeeks centres in Bangalore.
Online batches:

live instructor-led virtual Classes with expert faculty for real-time learning and interaction with batch mates.
Class timings for both formats are fixed and you are required to be available for your classes on time
What Can I Learn From
this Internship?
Tally Internship will introduce the topics like basic concepts in accounting
creation of company name
Edger accounts, voucher posting modifications with company details, understanding different types of cost, stock maintenance, budgeting, price list
Profit and loss account transactions, writing balance sheet.After the introduction of the common taxation, GST Tally is on high demand in the industry
GST calculation, GRV statement, Stock statement, Trail balance
Profit and loss account, balance sheet, form 16A.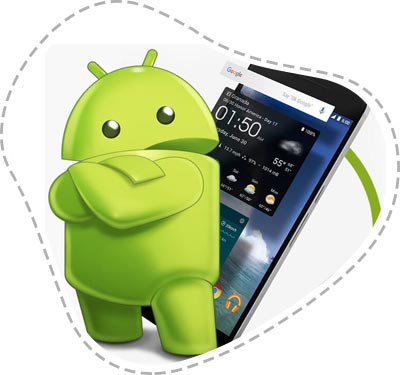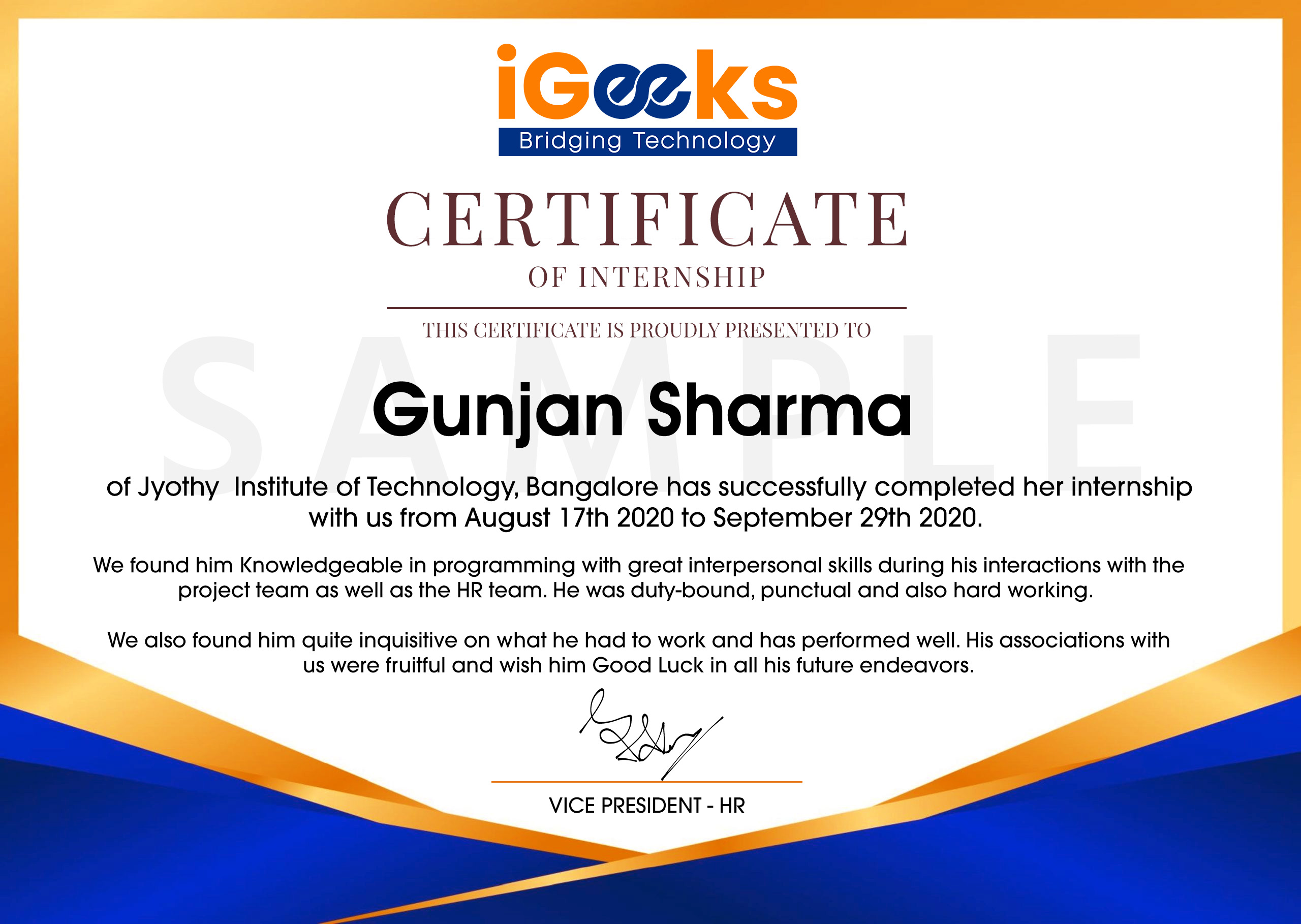 Internship
Certificate
Internship certificates are given to those interns who have completed the training and project work at a company. With the help of this certificate, they can prove their skills, talent and worth for the position.Once the students are done with their education and they are ready to take a job, this certificate becomes a key document for them.
Concepts covered in
Tally ERP.9 with GST internship
Tally ERP 9 - Manual Accounts
Introduction of Tally ERP 9
Ledgers & Creating GST Ledgers
TAXES IN TALLY.ERP9 & SERVICE TAX
Activating GST for Your Company
Income Tax, Auditing Controls, Compliances
GST, Accouting & Setting Up GST Rates
Project
Titles
To improve your practical exposure to the subject we also provide you with projects to work on Tally ERP.9 with GST.
This Project is to Creating stock items and stock groups for GST compliance.
This project is to create such as purchase, sales, state tax, central tax, integrated tax, stock item names etc.
Pricing
Plan
Our courses are provided at the best rates in the industry across various plans that fit perfectly in your budget and offer you the best of services.
---
Internship Offer Letter
1 Project Assistance.
Project Report Materials.
Internship Certificate on successful project completion
1 month
20 + hours of mentor
Proceed
---
Internship Offer Letter
Course Completion Certificate
2 projects Assistance.
Internship Certificate on successful project completion
Final Year Project Assistance.
2 months.
40 + hours of mentor.
Proceed
---
In depth course.
Internship Offer Letter.
Course Completion Certificate
5 projects Assistance.
Internship Certificate on successful project completion
Resume and Interview Preparation Assistance
100% Placement Assistance
3 months.
80 + hours of mentor.
Proceed
Hear

From Our Success Stories
---

Teaching is good for interns mostly practically knowledge provide .....Nice atmosphere.....friendly staff......i joined python(data science &ml domain internship..... Best Place for internship in Bangalore.
---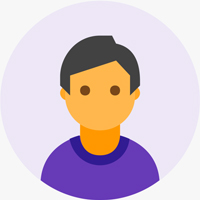 paviksha yadla

A very nice place to do internships. The faculty are well trained and have 20+ years of IT Experience. Training is very good and they guide you well with the projects.
---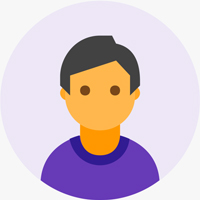 Likhith M

Good Teaching. They were really kind and also has an environment that helps you to target your career growth. I learnt lot of things from them. Igeeks team was very helpful
---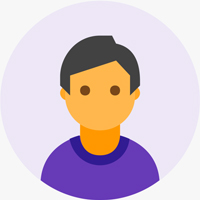 Sheryl Austin

Best place to get your internship done, they were really kind and knowledge full, Innovative and Interactive Learning environment that helps you to target your career growth. I learnt lot of things from them. Igeeks team really work hard towards progress of the intern.
---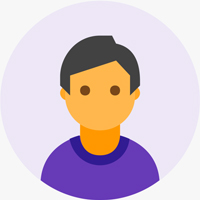 Sanjay Kousal

I completed my internship on Data Science, Machine Learning with Python and it was amazing experience with igeeks. Trainers are very talented and helps us to grow more. I learned a lot of things from this internship, hope it will definitely …
---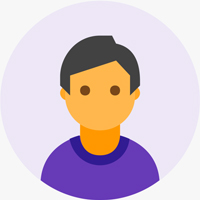 Mitra D

It was very useful experience. I'm very glad to have this experience with igeeks technology. I learnt something about new by gaining knowledge. Thank for this opportunity
---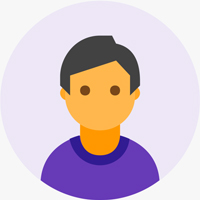 Nisarga V S

The ANDROID internship which I undertook in this igeeks technologies was so helpful and they thought me in a very easy way and classes was very easy to understand and it was very helpful to gain good knowledge in Android and also like to personally thanks to my mentor Mr. Sharath who given the guidance for me..
---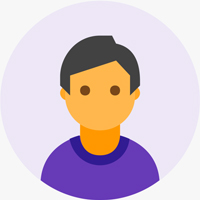 Chaitanya Karumudi

I did my Internship and Project on Machine Learning with Python here. I learnt Python and Machine Learning & Data Science from Somasekara sir. He taught me the concepts in depth. And the staffs here were too friendly. I would suggest college students to do their internship or projects in IGEEKS Technologies, Bangalore.
---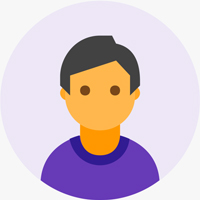 Snehapriya Sahitya

I am Sravanthi from MSRIT, really thank full to Igeeks Technologies for giving me opportunity to do internship in your company and we had enjoyed our internship by doing project on Machine Learning with Python and I am thank full to my mentor Mr.Somasekhar Sir and HR Team members for completing our internship successfully.
---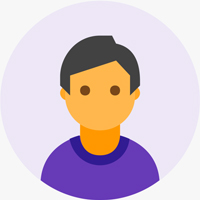 Sravanthi msrit

It was good learning experience and staffs were helping in all perspectives
---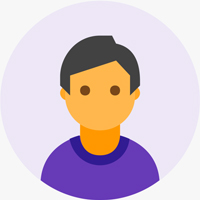 Priyadharshini Mi

It was very good.thank you IGEEKS staff.
---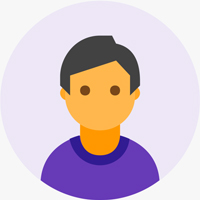 nanda kishore

I did my internship on IOT domain.I got an excellent teaching guide.its nice to do internship here, Also i gained knowledge about projects.Very good company for doing internship. The Internship which was conducted by igeeks was really awesome and worthful. I am suggesting the juniors to do the internship at igeeks, Bangalore, to learn the IoT and to gain the hands on experience.
---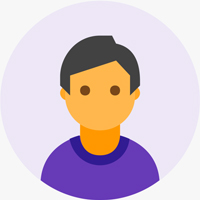 gopal nanda